IOP recognises Professor Simon Hooker
Professor Simon Hooker from the John Adams Institute at the University of Oxford has been awarded the Institute of Physics' Cecilia Payne-Gaposchkin Medal and Prize in recognition of his distinguished contributions to plasma physics.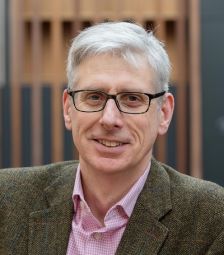 The award recognises in particular Professor Hooker's pioneering contributions to the development of high-power plasma waveguides and their application to laser-driven plasma accelerators. Clearly proud of his recognition, Professor Hooker paid tribute to his group,
'I am absolutely delighted to receive this award on behalf of the very talented and hard-working group of graduate students, post-docs, and collaborators I have been fortunate to work with,
Professor Hooker is internationally known for his world-leading research into novel waveguides capable of guiding relativistically-intense laser pulses. He invented the gas-filled capillary discharge waveguide and applied this novel waveguide to laser-driven plasma accelerators. In collaborative experiments with the group at Lawrence Berkeley National Laboratory, this approach was used to reach an electron energy of 1GeV for the first time in a laser-driven plasma accelerator. This widely recognised milestone was reported in The Economist as well as in scientific journals, and the paper describing this work has been cited well over 1,000 times. The discovery opens the way to the development of lab-scale GeV accelerators.
The full article about Professor Hooker's work and his award can be found on the University of Oxford Physics Department website.