JAI makes a "Big Bang" at the British Science Festival
From September 14-17th, a team of Oxford Physics students (led by JAI final year DPhil student Suzie Sheehy) visited the British Science Festival to perform 16 shows about particle accelerators to 11-14 year old students.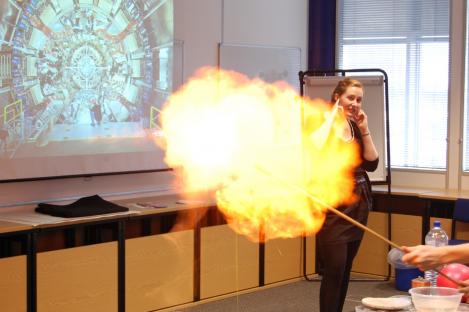 The 2010 British Science Festival was held in Birmingham from September 14-17th. As part of the schools program, Suzie Sheehy (JAI), Svet Bajlekov (Atomic/Laser), Andrew Steele (Atomic/Laser) and Freddie Page (physics undergraduate) took the "Accelerate!" science show to the festival, performing 16 shows for over 1000 school students during the week. The schools and the presenters had a blast (literally) - making explosions, throwing around liquid nitrogen and colliding giant beach balls together to explain how particle accelerators work and what they are used for.
In a guest article for the festival, Suzie writes: "Some concepts aren't easy to get across with a demonstration, like the concept of accelerating particles using an electromagnetic wave. For this idea we created the undisputed favourite demo of the show, involving the entire audience. It's called the "beach ball wave". Our beach balls are scale model protons 1.5m in diameter, about a thousand million million times larger than a real proton. The audience is transformed into an electromagnetic wave, which accelerates the particles across the room. After this we're into the realms of particle collisions, Einstein's famous equation and giant digital camera-like detectors taking forty million pictures a second."
The "Accelerate!" science shows are funded by an STFC Small Award for Public Engagement and have been running since December 2008. To date, they have been seen by over 5000 school students around the UK. A full evaluation of the shows has been undertaken and the final report will be available in early 2011.
Suzie also had the honour of presenting the 2010 Lord Kelvin Physical Sciences Award Lecture, entitled "The Big Bang Dilemma". After explaining how accelerators work and their applications, the audience were asked to choose whether they would fund a next-generation "Big Bang" machine or a new accelerator for treating cancer using charged particle therapy. Interestingly, two-thirds of the audience said they would prefer to fund the cancer therapy machine.
Overall, the festival proved to be a fun, thought-provoking and ultimately exhausting experience!
Photograph by Toby Shannon, British Science Association.